We are officially a week and a half into the relaunch of the FSC Book Club and it has been amazing! We switched our home base from the old Facebook forum to Goodreads, expanded our social media presence and decided to both read and cook our way through our current selection, Alana Chernila's The Homemade Pantry: 101 Foods You Can Stop Buying & Start Making.
There are 63 members signed up on Goodreads and, at last count, we have ten states represented! Readers from New York (our Capital Region and beyond), Massachusetts, Vermont, Maine, Pennsylvania, Virginia, Illinois, Idaho, California and Oregon are cooking their way through the book and sharing their experiences and thoughts with us. It's amazing.
Every other Monday, we are posting "assignments" over at Goodreads and inviting members to read through a few chapters, pick a recipe and start cooking. Right now, the book club is working our way through the first two chapters, finding new recipes for home dairy, cereals and snacks. The assignment is to share a photo of your finished goodies in action! Snap a picture of your bagel with homemade cream cheese or butter on it. Show us where you took your homemade granola or car snacks– a quick bite on the road, a nibble in between meetings, etc. Tell us where you served your new arsenal of homemade party snacks. Invite people over to watch the game and serve them a batch of potato chips, mixed roasted nuts or jerky.
Folks are uploading their photos to the Goodreads group album, sharing them on Facebook, Twitter, Pinterest and Instagram and on their own blogs! We're sharing tips, resources and inspiration. Best of all… Alana Chernila, the author of The Homemade Pantry, has joined the FSC Book Club and has generously offered to answer any of your recipe questions! Never made mozzarella before? Having trouble figuring out a direction? Head over to the book club forum and ask away 🙂 How many cook-a-long book clubs offer THAT?
We now have a separate Facebook page for the FSC Book Club! We post regular reminders and updates there and it's another way to connect with us. Like us! Love us!
Don't forget to follow the book club on Twitter, tag us (@FSCBookClub) and use the #FSCBookClub hashtag when you post. Same hashtag on Instagram too. Here are a few book club check-ins so far:
Cynthia from Maine made and braided her own homemade mozzarella!
(Shared in the Goodreads photo album.)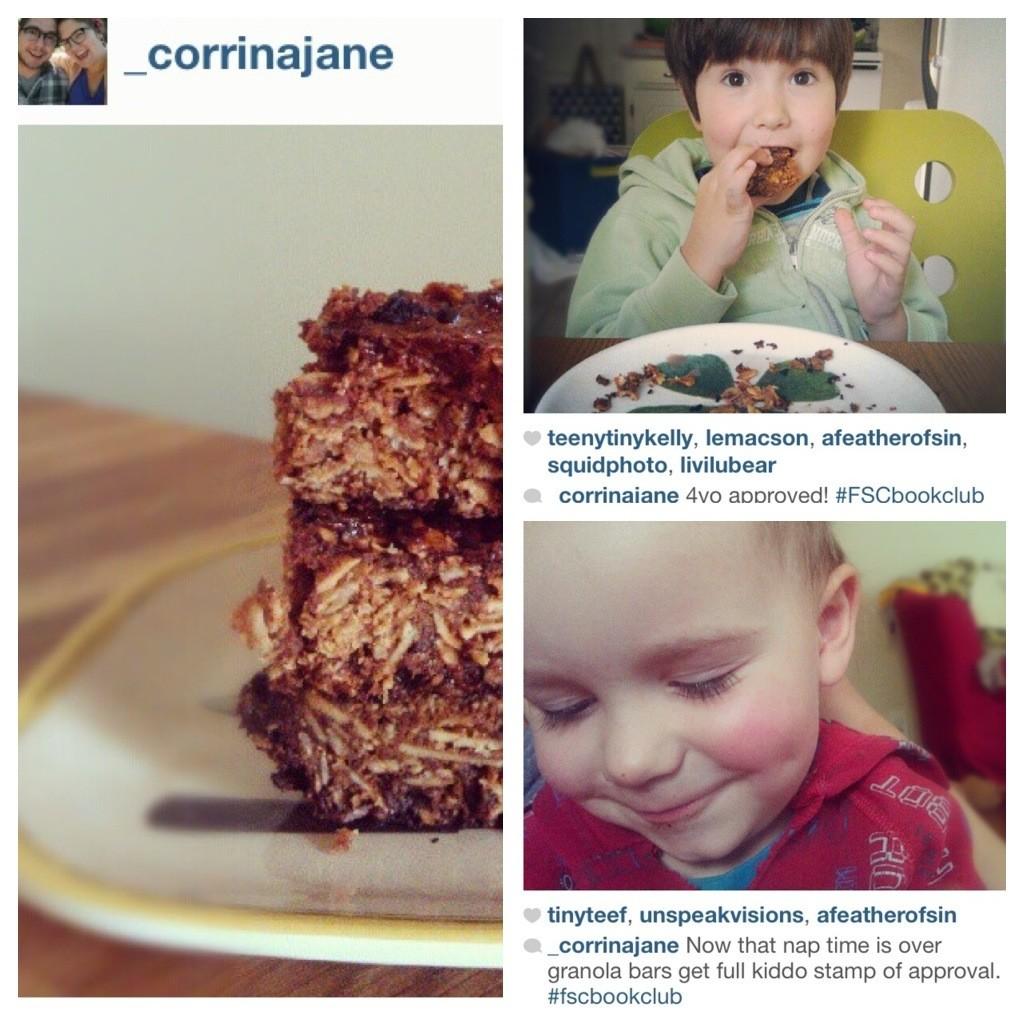 Corrie from Illinois (formerly from NY) got kid-approval on her granola bars.
(Shared via Instagram.)
Julianne from Kitchen Ninja made Nutella toaster pastries.
(Shared in the forums and on FB. Read more here.)
Marilyn reminisces about making butter in a jar as a grade schooler-
butter in a jar is one of FSC's favorite, easy-peasy demos!
(Shared in the Goodreads forum.)
Meg of Small World Supper Club made ricotta. She is a cheesemaker!
(Shared on Twitter and elsewhere. Read more here.)
Tina made granola bars with an unexpected melted chocolate effect and "exceptional taste".
(Shared on Goodreads.)
Susan M. made ricotta too! A new batch of cheesemakers has been created!
(Shared on Goodreads.)
Gina enjoyed a batch of homemade blueberry instant oatmeal.
(Shared on Goodreads.)
Sounds like fun, yes? Join us! It's not too late. It will never be too late. We are a laidback, no pressure sort of group. Cook what you like, when you like. We offer our "assignments" on a bi-weekly basis for those who dig structure. For the free spirits and time crunched members? Join us whenever you can.
Find the FSC Book Club on…